OUR TEAM
MINI TO MIDI TO LARGE, WITH AND WITHOUT TAILS!
Our Team checks all of the boxes when it comes to size, shape and colors for the Australian Shepherd and Miniature Australian Shepherd World. From World Championship Qualifiers, to backyard champions, our team loves to chase the plastic disc. Well, all of them except Kya!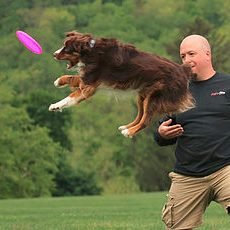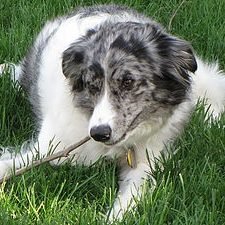 Blaze is a five year old blue merle Mini Aussie known as "20 pounds of Fury." He plays with the heart of a much larger dog. He finished his 2015 season in 6th place in the Skyhoundz Classic Microdog division. He has qualified for the Discdogathon Worlds in Bullseye, Sport Landing and Freestyle finishing 11th in the DDAT Freestyle format against larger, experienced dogs. In 2017, he qualified for Skyhoundz Worlds in the Microdog, Open Classic and Discdogathon formats. Blaze was the 2015 FDDO International Champion!
Maxwell is a 3 year old Red-Tri Mini Aussie, affectionately known as Mr. Puppy-Puppy. He has moments of brilliance followed by bouts of "puppy brain." Maxwell qualified for Skyhoundz Discdogathon Worlds in 2015, 2016 and 2017 in Bullseye and qualified in Freestyle in 2016. I am not pushing Maxwell. He has all the talent in the world and one day he'll put it all together. For now, we'll be satisfied with flashes of brilliance and the times where Maxwell jumps "So High."​
Hendrix is a 2 year old Red Merle Aussie (with a tail!). He made his debut in 2017 and showed great promise at times. His Dad Ra-Kin and aunts Hippie Chick and Chicklet are great disc dogs and he has some big shoes to fill. I look forward to lots of fun on the field with him in the years. Look out for the giant flying squirrel with the "glorious" tail on a disc dog field near you.
Yogi is our special guy and our first rescue from Aussie Rescue (ARPH). Yogi is a labor of love as he's probably the most talented disc dog on the team but suffers from severe fear/anxiety issues. He often will not play in front of a crowd because of these issues. At times, Yogi overcomes those fears and has great results. At the Mad Dogs Monster Paws event in October 2012, he was the Grand Champion for the day and also qualified for Skyhound Worlds in Spot Landing for 2013. I have spent many competitions celebrating a single catch, a single moment or a complete 90 second freestyle routine with Yogi. We are so proud of our "Knucklehead."
Rocky retired at the end of 2016 and it's a well-deserved retirement. Rocky is known for his flips and long flowing coat. Considering he was born with an eye colomboma which causes him to squint in bright light, he has a stellar career. Rocky finished 3rd at Skyhoundz Worlds in Spot Landing in 2011. In his career, he qualified in all of the DDAT games. He went out in style during his Freestyle retirement round at Worlds in 2015 in Chattanooga. He played his heart out in a downpour and made me so proud. As my first competitive disc dog, I made many "mistakes" in training him but I learned so much from him. I love the Dude. He's taken me places all over the country. He's my best friend and a great dog to boot.
And then there's Kya. Kya is an eight year old rescue from ARPH. She joined our family when she was four months old. Kya is truly one of a kind. She's sweet and outgoing unless you happen to be one of her owners. She truly has the rest of the world fooled. Kya decided at a young age that playing disc wasn't really her thing. She can do some spectacular leg vaults, back stalls and the like but attention span and catching simple tosses just aren't her thing. So, we decided not to push her and let her be a dog. She loves to patrol the back yard for bunnies and eats the occasional stick. The "Dingy" is a sweet pup and even though I tease her about trading her in, I would never do so.